Quick Links
Contact Us
Computer Science Department
Swarthmore College
500 College Avenue
Swarthmore, PA 19081
Phone: 610.328.8272
Fax: 610.328.8606
Email:
info at cs.swarthmore.edu
Copyright 2009 Swarthmore College. All rights reserved.
Swarthmore Students Present at MemSys'16 Conference
Swarthmore students Ryerson Lehman-Borer ('16) and Ben Marks ('16), and professor Tia Newhall, presented their paper Nswap2L: Transparently Managing Heterogeneous Cluster Storage Resources for Fast Swapping at the the International Symposium on Memory Systems on October 4th in Washignton DC.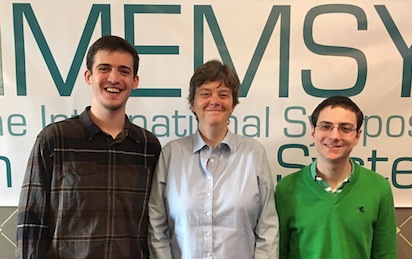 Ryerson and Ben, 2016 Computer Science majors at Swarthmore College, presented the work they did with professor Newhall as part of the Nswap2L project.