CS81 Adaptive Robotics¶
Lab 5: Applying Novelty Search¶
Due the Monday after Fall Break (Oct. 23)¶
---
Lab Goals¶
Combine Novelty Search with NEAT to solve the coverage problem.
Compare Novelty + NEAT results to the NEAT results you got in Lab 3.
Getting Started¶
Use the github server to get the starting point notebooks for this lab.
Introduction¶
In this lab you will combine your implementation of novelty search with NEAT and apply it to the coverage task. The goal of novelty search is to find unique behaviors, rather than optimizing a particular objective function. The pictures below show some example behaviors that were in the archive at the end of a single novelty search run with a population of 100 that was evolved for just 5 generations. Note that many of these behaviors are not very good at coverage, however they are quite different from one another.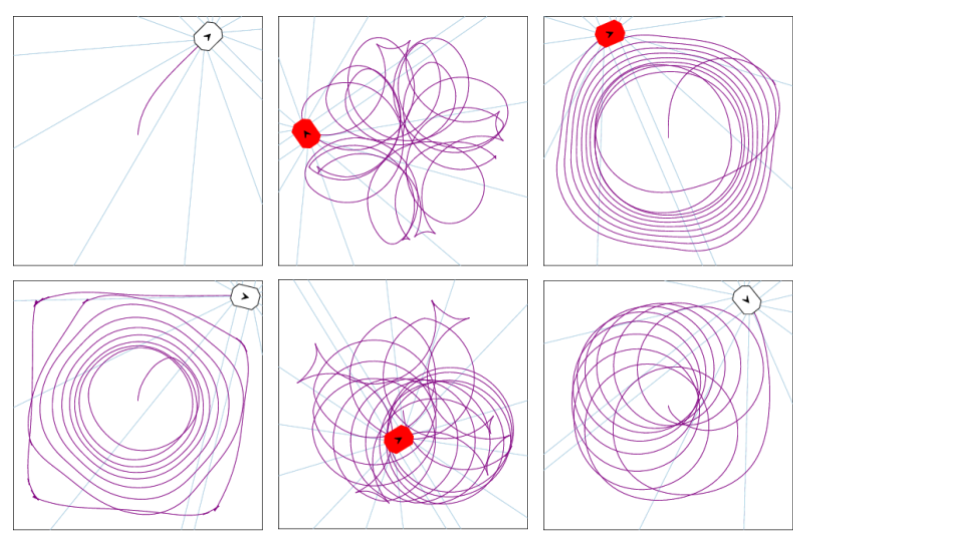 Despite the fact that novelty search is not optimizing an objective function, it is still able to find successful networks that perform coverage quite well, as demonstrated in the pictures shown below of both the trail and grid of the best network found. This network achieves 88.45% coverage, and only misses a few grid locations in the center, as well as some locations in the corners. This network had:
4 inputs: Representing whether the agent is stalled, a normalized distance to the nearest wall in front, a normalized count down timer, and a constant bias of 1.0.
2 outputs: Representing translation and rotation amounts.
This network was found in generation 23 out of a total of 25 generations. The novelty search parameters were:
k=15
limit=100
threshold=0.2
max_dist= sqrt(2 x 14 x 14) x 225)